Recently I made my very first trip to the Pacific North West and it was amazing! Portland and Seattle were huge on my travel bucket list and being able to knock them both out in one fantastic trip was a dream. There will be a ton of posts coming up on my blog about my time in both Portland and Seattle, but today we're starting with Portland! And I wanted to share where I stayed while in Portland because it was truly incredible.
Enter: The River's Edge Hotel
My parents and I had the absolute pleasure of staying at the gorgeous River's Edge Hotel. And let me just say, the name lives up to the experience. This gorgeous, newly renovated hotel sits right on the edge of the Cottonwood Bay. Be prepared, there is cottonwood EVERYWHERE! I've never seen that much of it in my entire life. When you look outside it looks like it's snowing because of all the little white pieces of cottonwood falling from the trees. The hotel itself is also decorated beautifully! There's awesome artwork everywhere you turn. You can really see all the care and thought that went into the design of River's Edge Hotel.
The beds at River's Edge were beyond comfortable! Our room also had the cutest balcony which I loved sitting out on. You could watch the cottonwood fall and people out on the bay water skiing and canoeing. It was the most peaceful spot to sit out at night and relax after a long day of exploring.
Attached to River's Edge is Rosswood, one of the most delicious restaurants I've ever been to. I swear I'm not just saying that either. The meal I was lucky enough to have at Rosswood still makes my mouth water weeks later just thinking about it. And on top of how delicious the food was, the service was even better! Our waitress was beyond kind and helpful!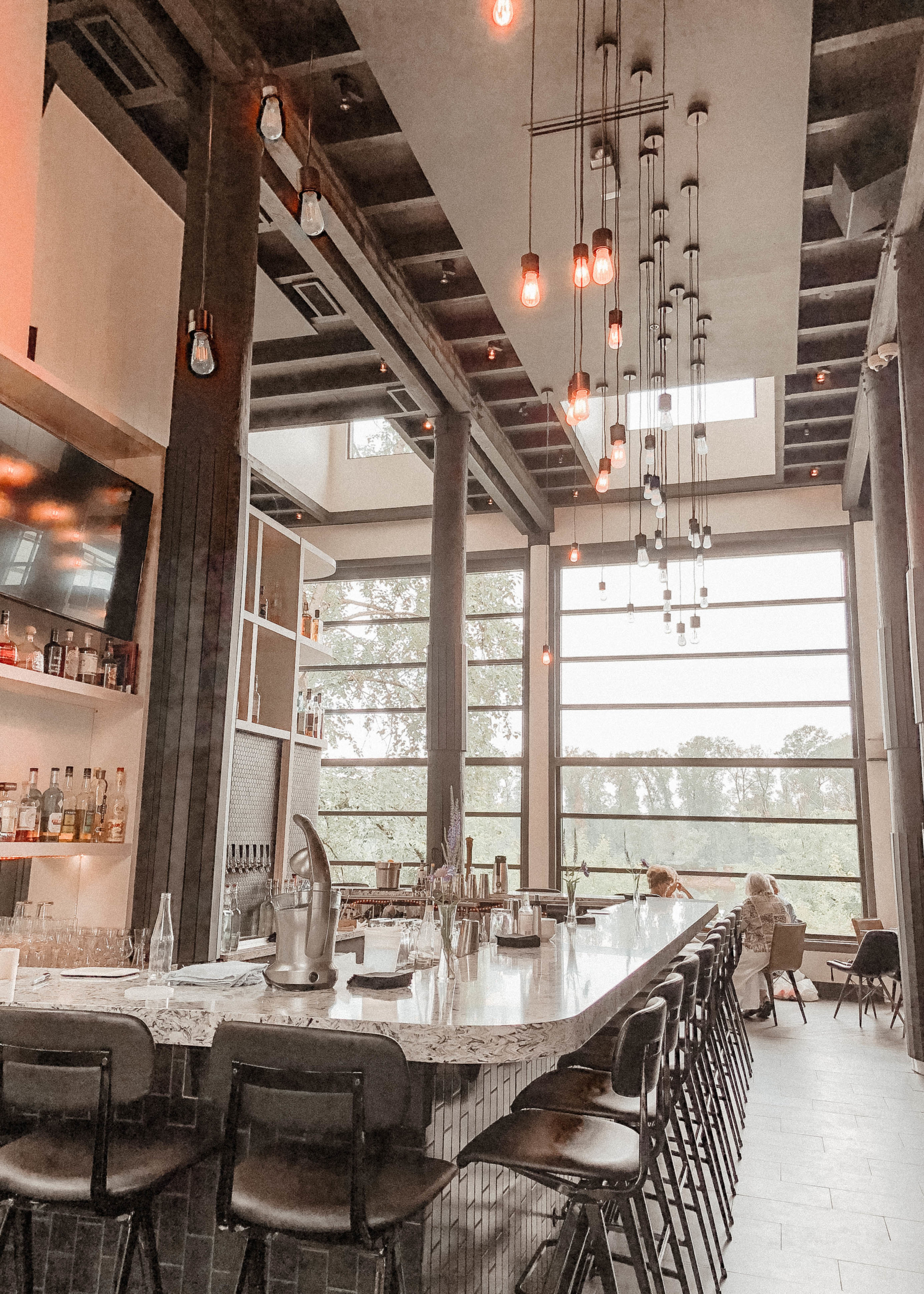 the architecture inside of Rosswood is absolutely breathtaking! There are massive windows along the whole back of the restaurant allowing you to look out at Cottonwood Bay. The interior is the perfect combo of industrial and modern featuring slick marble and exposed duct work. Now let's get to the food!
The Rosswood is known for their signature drinks! I absolutely adored every sip of all three of these!
Our appetizers absolutely blew our minds. We got the shrimp ceviche, mushroom toast, oysters, and the burrata. So basically all of the food we could possible eat without totally ruining out appetite for dinner. Everything was absolutely delicious, but my two favs were the mushroom toast and the oysters. Oysters are always delicious and the vinaigrette that they're served with at Rosswood is delicious. The mushroom toast was definitely one of the highlights of my meal overall! The mushrooms were cooked and seasoned to perfection and served on the most mouth watering bread in the world. And as if that wasn't enough they also add caramelized onions to the mix! I'm hungry just thinking about it!
Onto our main courses! We each got something totally different. My mom opted for the steak dinner, my dad got the roasted salmon, and I got the carbonara. I had been craving carbonara for days, so when I saw it on the menu I needed to give it a go. I also tried both of my parent's dishes and they were both amazing as well!
This dish was so perfect. The carbonara sauce was super creamy and complimented so well by the little bacon bits. Those are all of the staples of carbonara, but Rosswood adds their own twist with pieces of snap peas! Those add the perfect little crunch and bit of freshness to elevated this dish to the next level!
I'm not normally much of a dessert girl, but everything else at Rosswood was so delicious that we just had to try some dessert as well. We picked out the red velvet cake and the apple streusel. Both were delicious beyond belief and both were the perfect finished touches to this meal.
And that was our stay at River's Edge Hotel! It was one of the most relaxing and wonderful experiences I've ever had at a hotel and I would stay there every time I went to Portland if it were up to me!