I'm back with another Hawaii blog for you guys! If you missed it, I already shared my favorite outfits from the trip here. Today I'm going to walk you through each place that we took photos for our instagram as well as my favorite places that we ate. Food and photos are two of my favorite activities on vacation, so I took this very seriously while we were there!
WHERE I ATE
Olive & Oliver
This was our very first stop on our trip and one of the cutest places we visited. Olive & Oliver was just a short walk from our hotel and honestly one of the cutest coffee shops I've ever visited. Their cups have the cutest prints on them and the drinks were absolutely delicious. I got the Chai Tea Latte with Citrus Syrup and it was one of the yummiest I've had. The portions are small, but the quality is high, so it's still a fair trade off I think!
Looking for a quick and delicious breakfast? Check out Arvo Cafe! Arvo is in the cutest shopping area and is tucked in the back of a quaint local store. The decor is beautiful and the staff was super friendly. I got the Egg Salad Toast which was a special that day, so I'm not sure you can usually get it, and Tara got the Avocado Toast which is on their usual menu. I also ordered a Matcha Latte. Not going to lie, I was a little nervous about getting a match because they can be hit and miss in the way they're made, but this one was smooth and creamy, just the way I like them. It is cash only though, so make sure you stop by an ATM before visiting!
This cafe was located in such a cute area and has free parking which is a total bonus! It's great for a quick lunch as the food comes out pretty quickly. I got the Seared Tuna Wrap and it was amazing! Super flavorful and the tuna was prepared perfectly. The side salad was also great with a light, flavorful dressing on it.
We, of course, had to get some ramen while we were on vacation since it's our favorite food! I'm pretty particular about my ramen because I like it to be nice and creamy, and mine did not disappoint. I ordered the Tonkotsu Shoyu Ramen. We also got the Parmesan Brussel Sprouts and the Augcini which is a deep-fried cheese rice ball. YUM!
Taco'ako
Taco'ako was probably my favorite meal of the whole trip. I seriously would have eaten there for every meal the rest of the trip if I could have I think! It's in the same shopping center as Arvo's which is how we found this spot. We were very excited about the super cute neon sign that says Tacoholics Anonymous which is what first caught our eye here. I ordered the Baja Fish Taco, Avocado Taco, and a special taco they had that day with corn, poblano peppers, mushrooms, cheese, and so much more. It's so hard to say which taco was my favorite because they were all delicious in their own way. I would be pretty confident with ordering anything here and counting on it being amazing.
I was on a mission to eat as much seafood as possible while in Hawaii because I'm a huge seafood fan. So Tara told me she had to bring me to Giovanni's Shrimp Truck which features world famous garlic shrimp. This stuff blew my MIND. It was the most garlic-y meal I've ever had and I loved every second of it. I ordered the classic Shrimp Scampi which seemed like the best options for my first time there. Come prepared to get messy because you have to peel each shrimp yourself, but it will be worth every bit of effort this takes. You may have garlic coming out of your pores for the rest of the day, but you won't regret it for a moment!
Nearly everyone who DM'd me recommendations for Oahu told me I had to try Island Vintage Coffee and it did not disappoint. If I lived in Waikiki I could see myself sitting at this coffee shop every single day. I tried both the Vanilla Chai Tea Latte and a Match Latte from here and they were both delicious. But the star of the show was definitely the Veggie Bagel. This thing is loaded with amazing food like pesto cream cheese, sunflower seeds, avocado, tomato, capers, and sprouts. I honestly haven't stopped thinking about it since the trip. And as a bonus, their chips were super yummy as well. You haaaave to try this bagel if you ever get to visit!
BEST INSTAGRAM LOCATIONS
Taking photos is one of my favorite things to do on vacation. I just find it to be so much fun! So I want to run you through some of the best locations we visited. Most of my outfits have already been linked in my What I Wore In Hawaii blog post, so if you're curious, so check that out!
The Best Beaches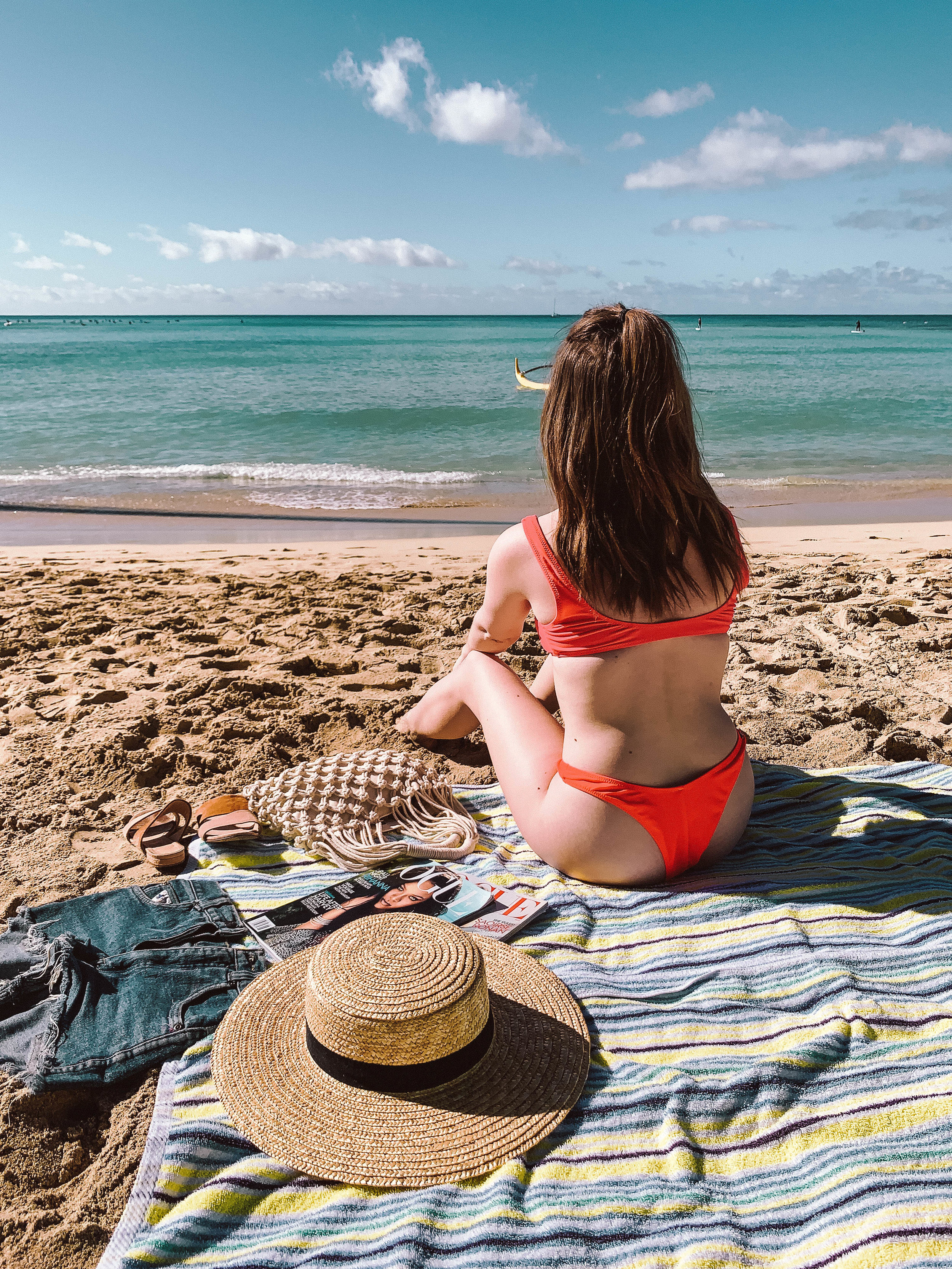 Is there anything more Hawaii than beach photos? We visited SO many beaches while we were in Hawaii that it was hard to keep track of them all. Every beach I visited was more beautiful than the next!
You guys may recall from my last blog post that Tara and I wanted to go see the Makapu'u Tide Pools, but realized that we were totally unprepared for the hike. So instead we stopped off at a small, local beach that happened to have little mini tide pools that we were able to take photos in!
Haleiwa
Haleiwa is the perfect small town to visit for yummy food and cute photo locations! Definitely bring a few outfits with you to take photos in here because there were a million different places to stop.
These are a Hawaii classic and you've probably seen every influencer you follow take photos here while in Hawaii. They're located right on the outskirts of Haleiwa, so make sure to stop to snap a quick photo while you're there!
Right next to the wings is a super cute surf shop. The employee we spoke to there was incredibly friendly and even offered to take a photo of Tara and I so we could get a few pics together. They honestly turned out to be some of my favorites of us from our trip! It's called Tropical Rush and they mentioned that if you buy anything there you also get free shaved ice from the shop next door. Pretty cool!
We decided to splurge and get some shaved ice from Matsumoto Shaved Ice. It's the most popular in Haleiwa. I'm usually not really a shaved ice person, but WOW was this incredible. It was suuuuper sweet, so definitely get one to share with your group. And a bonus that it works for a pretty cute photo prop too!
Ho'omaluhia Botanical Gardens
These botanical gardens were insanely gorgeous and the perfect place to get the jungle vibes you want out of Hawaii. I was seriously in awe of how perfect and green everything was. Every single place you look there's a more beautiful view than the next.
Tara and I are both HUGE fans of the tv show Lost. I've seen every single episode and so I obviously had to visit one of the filming locations that they used while I could!
The Other's Camp is totally open to just walk through and I was dying! They still have a DARMA sign up (if you know, you know) and all of the cabins are still numbered so you can actually tell which cabin belonged to which characters. #19 is Juliette's, #20 is Kate's, #21 is Ben's, and #22 is Juliette and Sawyer's. SO COOL! It was raining an insane amount while we were there too which honestly made it even more fun. If you're a lost fan you absolutely have to stop here and snap a few picks.
While we were in Hawaii we stayed at the Shoreline Hotel Waikiki and it was gorgeous! It's the perfect location with tons of places to eat and go out right nearby, as well as the beach being a short 5 minute walk away. I highly recommend you stay there the next time you visit Waikiki!