Welcome to today's post! If you follow me on social media you may know that I went on a jam-packed weekend road trip in the middle of January to celebrate my friend Brendan's birthday. We woke up at 3am on a Friday, packed up the car, and set off! To finish off our squad we had Meg and Katie with us too! Over the entire weekend we hit Arizona, Utah, and California. We wanted to share with you all the amazing sites we got to see.
Our first stop was the classic, instagram-famous spot, SALVATION MOUNTAIN!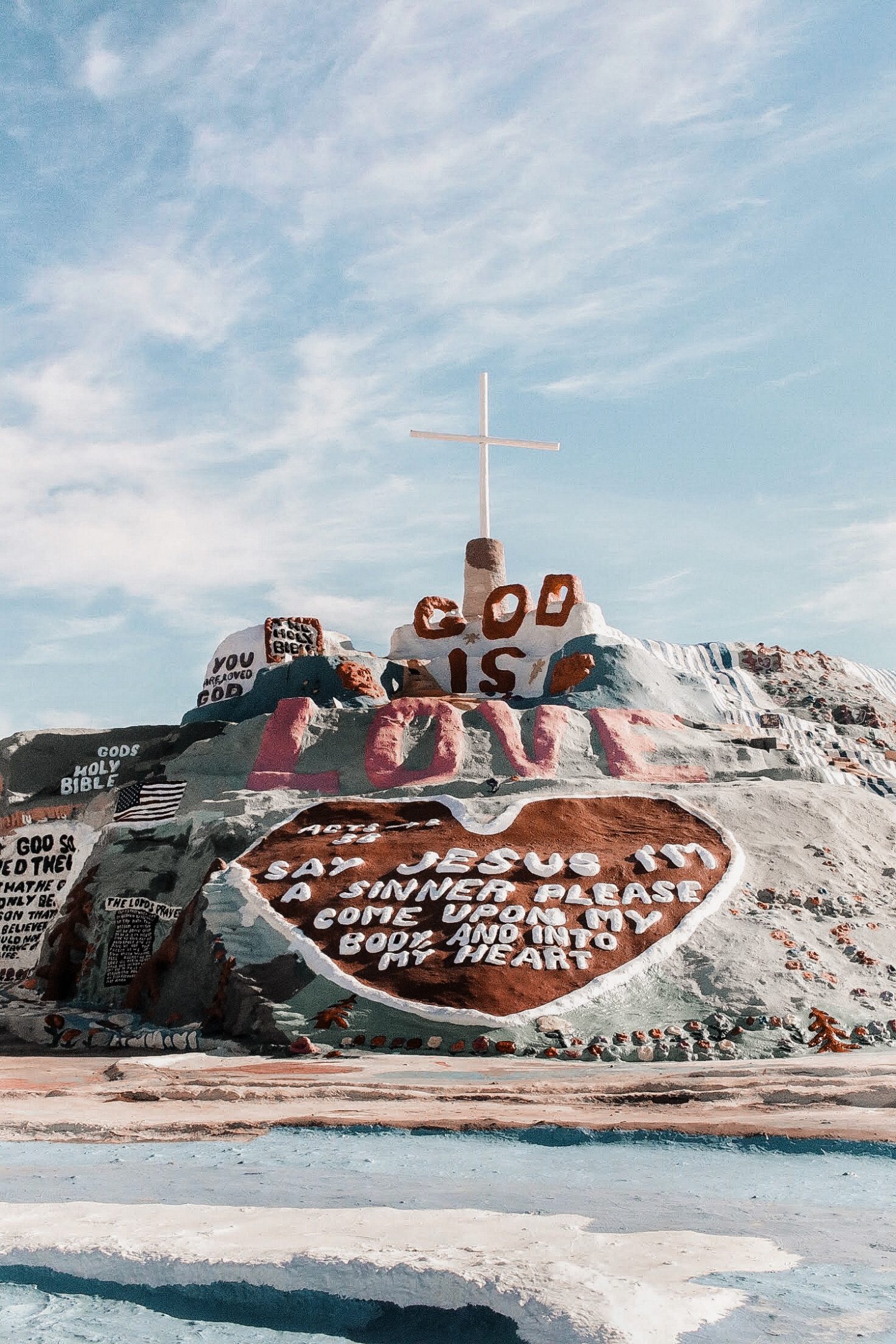 It's located in Southern California just a couple hour drive east of LA. The drive there is sort of off the beaten trail, but it's definitely worth it in the end. For those of you close by, it makes a really great day trip. Grab some friends if you're looking for something fun and spontaneous to do!
Created by the artist Leonard Knight, this site spreads the simple yet powerful message of "Love". I mean, who doesn't want to feel love? We definitely connected to its meaning on a personal level. Painted with all sorts of fun, colorful designs, Knight turned this mountain into a visually stunning, instagram-worthy site to see.
We got there super early so there weren't a lot of people which was really nice. The only downfall is that it wasn't "open" to go and explore the actual mountain since we were there around 10am… sad day. He mentioned it would be opening around 2pm, which was a little too late for our schedule, but good FYI for anyone who is looking to go. Even though we couldn't actually climb the mountain itself, it still made for a great photo opp!
What came as a nice surprise is that there are actually a bunch of other art pieces around the mountain. There are tons of old, broken down trucks that are also painted in the same style as the mountain. You can spend way more time there than you may think just exploring all the different parts of the mountain.
For my outfit I wanted something with some color that way I would compliment the mountain. It felt like the right time to bring out some bright red and pose. I was a little nervous about wearing booties since it doesn't necessarily seem like a bootie appropriate location, but the land is surprisingly flat. I didn't have any trouble at all getting around in these. Shop what I'm wearing at the bottom of this post!
That's it for today, hope you enjoy! More road trip posts coming very soon, so stay posted. You can watch the beginning of our trip down below on my vlog channel. See ya next time guys!