We all love coffee, let's be honest. But what's even better is finding those go-to coffee shops to catch up with friends, get some work done, or, what is always on my mind, to take a great picture for instagram.
I set off on a mission to find the best and trendiest photoshops in the Downtown Los Angeles area and I can't wait to share them with you!
tilt coffee bar
First up, we have Tilt Coffee Bar! This one was an absolutely delightful surprise in every single way. Tucked away inside a little courtyard between two buildings, it almost feels like you've left DTLA and ended up in a green grass suburb. Not to mention that the coffee shop is made almost completely of glass while the outer back of the structure swooshes down at a sloping angle, topped with tons of foliage. There's a few indoor seating options but even more outdoor options, which is always nice on a warm LA day. Everything about Tilt was a wonderful surprise, from the coffee to the atmosphere. All in all, this was by far my favorite from the day!
At Tilt I order the Vanilla Caffe Latte ($5) and the Almond Danish ($4). Let me just say that both of these items were incredibly delicious. I have a bit of a sweet tooth and normally add sugar to sweeten up my lattes, but with this one there was absolutely no need. It was perfect just the way it was!
As for the almond danish… it will seriously blow your mind. The almonds add a perfect crunch to the soft danish and the slight dusting of powdered sugar adds the most subtly sweet touch. A winner all around!
verve coffee roasters
If you've ever ventured into DTLA to discover a new, trendy spot, you've probably come across Verve. This has been a go-to for me ever since my best friend and fellow blogger, Tara, showed it to me! Everything about Verve is perfectly instagrammable, thanks to their perfect looking coffees and the gorgeous repurposed wood coffee tables. The indoor seating at Verve features super gorgeous light wood and exposed duct work on the ceiling. It feels relaxing and like a super easy going place to complete some work or catch up with a friend. However, my favorite part is the outdoor patio where the walls and ceiling are covered in vines, leafs, and succulents.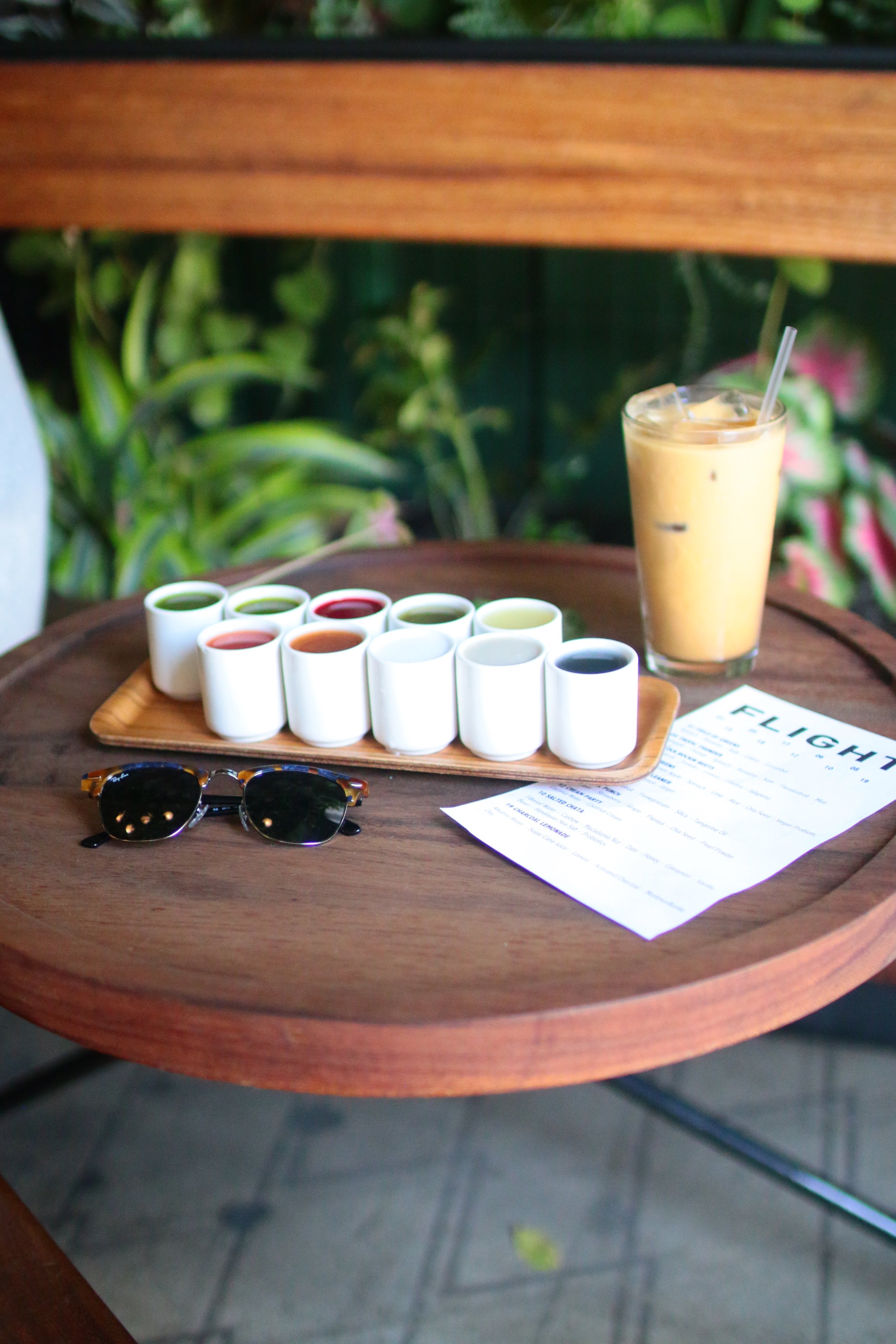 At Verve I ordered The Missile iced coffee ($5.50), which was recommend to me by a staff member there. The Missile is another absolutely wonderfully sweet drink, no additional sweetener needed! This is a great go to as the weather starts to warm up again since it comes iced and is so refreshing!
I also decided to switch it up and try a sampler platter from the brand 'Juice.' The juice sampler is a bit more hit or miss and will vary depending on what each person likes and orders! I had a ton of a fun trying each flavor and seeing which I liked best. My favorites are definitely Pearl Punch & Tropic Thunder. Overall, this was a super fun activity, so grab a friend and get a juice sampler of your own!
the wheelhouse
The Arts District is probably the trendiest spot in DTLA and that's where we came across The Wheelhouse. This coffee shop is unique for so many different reasons. First off, it's not just a coffee shop, it's also a bike shop! That's right, you can literally buy a new bike to ride home after your delicious cup of coffee. The environment is incredibly relaxing and quiet. If you're looking for a place to grab a delicious coffee while sitting down to work, this is definitely the spot for you. Best of all, there's an actual parking lot! That's right! No driving around for 15 minutes looking for parking when you visit this spot.
The Wheelhouse has a fun twist to its menu since the name of each item is a Star Wars reference. Star Wars fans unite! I ordered The Dark Side ($5.50) which is a coffee that has chocolate and orange vanilla flavor. If you absolutely love the taste of coffee, this is definitely the drink for you! The chocolate adds a sweetness to the coffee that is not overwhelming while the orange adds a slight acidity balanced out by the vanilla.
I also ordered a custard filled croissant with a sugar glaze ($4.75) and man was it good. This thing is essentially a custard filled donut in croissant form and I'm absolutely obsessed. You have got to try one if you check this place out, best shared with a friend since it's sweet as can be!
lazy brewing company
Lazy Brewing Company has a unique charm that none of the other shops on this list seem to have. I actually just stumbled upon this one while walking to my next destination and decided to stop in. The interior is perfectly trendy with a mish-mash of different vintage furniture that, despite all being different, still seems to fit perfectly together. There are a couple different areas through out the shop from a seating area, great if you came with friends, to areas that are better if you prefer to come get work done.
I decided to order the Snow Brew ($5.50), which was recommend to me by the friendly woman working there. This one is a dark cold brew with a white cream custard foam on top. This drink is beyond instagrammable, with the foam slowly mixing with the cold brew in aesthetically pleasing swirls. Definitely grab a stick to mix the two liquids together once you snap some pics so you can get the full effect of this drink.
I also decided to check out one of my favorite treats, the avocado toast ($8). The greens on top cut through the smoothness of the avocado and the radish brings all the flavors together. However, it's the bread that absolutely makes this dish. It's incredibly flavorful and was definitely my favorite part of this delightful snack!
There you have it! Some of the absolute trendiest spots to stop in for a coffee in Downtown Los Angeles! If you check out any of these coffee shops make sure send me photos on twitter. And don't forget to comment below what your favorite coffee shops in DTLA are! I can't wait to check them out!